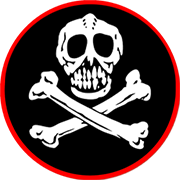 RED JACKAL
Code Name: Red Jackal
Personal Name: Anton Nobokov
Action Force Code Number: AF 935163
Primary Military Speciality: Head And Hand Combat
Secondary Military Speciality: Hi-Speed Chase-Driving
Birthplace: Latvia
Suffered a severe crash, which Action Force doctors said he wouldn't survive. But Ironblood's scientists used unknown technology to rebuild him. Bionic head and hands, with electronic volt facility make even handshaking deadly. Drives a Hyena, with rotating turret and elevating twin guns.
"Bionic vision makes Jackal the best driver in the enemy."
A variant of the GI Joe Destro figure, supplied with the Hyena.
Red Jackal originally came with no accessories, but the figure was later released in the US as a convention exclusive with Destro's accessories.