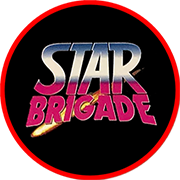 SCI-FI
Starfighter Pilot
Filename: Fine, Seymour P.
S/N: 793-2919-SF29
Primary Military Speciality: Laser Weapons System Operator
Secondary Military Speciality: Electronic Instrument Repair
Birthplace: Geraldine, Montana
Grade: E-4
"When you're pulling an inverted G-force dive during a stellar dogfight, there's NO room for error!"
SCI-FI's fascination with electronics and high-tech laser optics forced him to take a leave of absence to complete his Master's Degree in electrical engineering. His studies led him to combine a laser weapon's remote target designator and optical sensors to create an unparalleled security system that has since been adapted by NASA. An obvious genius with lasers and radically designed instrumentation, Sci-Fi became the first recruit to pilot a STARFIGHTER. He handles the jet's controls with confidence, even at quasar velocities exceeding the speed of light! In combat he fires laser rockets with incredible accuracy, and has turned more than a dozen COBRA INVADERS into burned-out pieces of galactic garbage.
Supplied with the Starfighter.