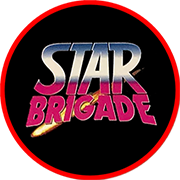 PAYLOAD
Cobra Invader Pilot
"Space is the place to smash Sci-Fi in the face."
Payload grew up watching the early space shots blasting off through the Florida sky. He often stared through a hole in the space center's security fence and rode the flaming booster rockets in his dreams. Payload worked hard on making those dreams a reality by running away and joining the Cobra Team on his 18th birthday. He flew JIT-13's over Southeast Asia paying his dues and becoming an expert pilot. When he returned stateside he signed up for the astronaut training programme. Now he's a member of Cobra's elite Space team, fighting to destroy Earth and other planets in the deepest voids of space.
Supplied with the Invader.