paul wrote:

Jamar, I've had time to read Tracker & World Enemy Number One so far - both great and full of great memories from my childhood. A few little comments/observations:

Why is Destro called 'Destron'? Is this mis-communication between Palitoy and the story writers?


I know there was a lot of miscommunication between the two, in Jungle of Terro its guacho clearly, but on the cover its has guacho in the US colors / character Gung ho. Which wouldnt come out in the UK for quite some time
we also have Jammer showing up in later stories , when he was probally most likely suppose to be Stalker , as he was drawn with a clear Z on his chest that Jammer had.
we also from time to time have destro showing up with the crossbones of Red Jackal so either there was miscommunication a lot of the time, people didnt care , or people just forgot LOL
paul wrote:
-

My most favourite completely ridiculous part SO far: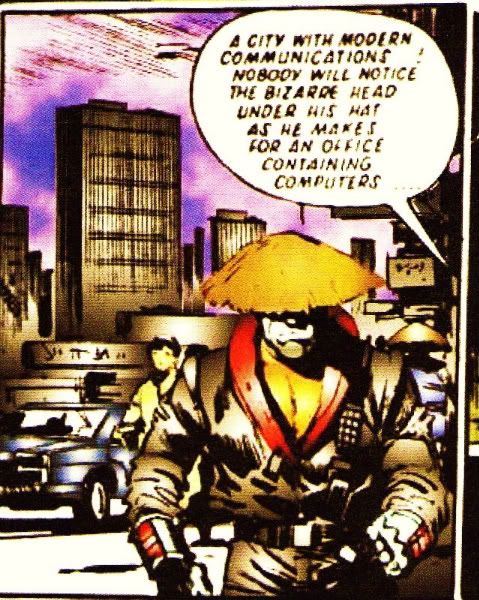 I love the fact that the problem of the guy having a chrome head & walking around a city in broad daylight is 'solved' by the wearing of a hat! Genius!


heheheh great what a little hat can do, no clothes needed and no one will notice!! LOL hey those hats are pretty big at times! I have one! I use it every year when I go rice planting here in Japan! LOL
paul wrote:
-

Also completely LOVE the data files - they were always a favourite of mine as a kid, but why didn't you put all the shadows files together all in the same volume, ie, include Kraken et al aswell. And why 4 versions of the same infantryman? Please don't take this as critical in any way whatsoever, I'm just asking that's all...


Okay for the Data files , Im glad you like them I do too, its nice to learn a little moe about these people. it makes them more personal.
why we didnt put all the red shadow files and other data files together in this volume??.
Three reasons really
1. I wanted to have something for the next volume really
2. This volume was the first and my main goal, for all of this is to get the word out on this great line and reintroduce it to the world, and with that in mind I wanted to not have anything toooo crazy out there that people would hate. To people who didnt grow up with this stuff, they usually cringe at the kraken and skeletron, so I thought for the first volume I would stay away from the more radical of the radical LOL ideas that came out.
3. I thought that if we ever did the Kraken story that would be a good place to put it. Since his appearances was limited to that story anyways
Okay now as for why the same data file:
As you know Action Force had many many deaths and sometimes these characters were given lines and several panels along with either a name or a code name. Now I personally hate hate the idea of one appearance and then die characters, so what I wanted to do was to take these code named guys and ,
1. flesh them out a little with thier data files and
2. also go back to previous stories that had nameless guys in the background talking and contributing to the story but didnt die in the story and wasnt particulary named in these previous stories and make them those characters, Color them the same colors. By doing this were not changing the story, text, art , NOTHING at all but instead adding to it without changing anything
This way when they die you feel it more
so those four guys
SPOILERS
.
.
.
.
.
.
.
.
.
.
.
all die in the great Cobra Robbery but we have them appearing several times throughout the series now, this way when they die you feel it more. I just wanted to make thier deaths a little more meaningful, Heck if they had code names and all they couldnt have just been a Lousy nobody LOL they had CODE NAMES that the writers went to all the trouble of thinking up, so they had to have more to them LOL
paul wrote:
-
Also, I love the Ironblood stories more than Cobra [as do most of us on the forum I imagine], so why so few Ironblood and so many Cobra stories? Is it just because the Cobra stories are the ones that happen to have been coloured?
Okay so this was the thinking that was behind this whole project.
Reintroduce these great stories and characters to the public some people for the first time and some people who just forgot about them for a second time.
Now to do that with the new people , I had to LURE them in with showing characters that they already knew and love, if we had started off with the original shads and AF characters then a lot of people ( IMVHO ) probally wouldnt have noticed or cared but when you have then interacting with people that the general public already knows , then it attracts them. Once they see these guys interacting with thier favorites ( ie Cobra Commnader , Storm Shadow, Duke, ect ect ) and more well known characters, then they want more and will spend more time reading about these people.
This is also why I used Quarrel Stories a lot and had her appear as many times as possible, Shes probally the most well known of Action force to GI JOE fans that dont know much about AF. Also comic book / toy fans love a powerful pretty female LOL so it was another way to lure them in. So it was definate conscious decision but with a reason behind it ( whether its right or wrong LOL there was thinking behind it ). I Personally think its working too , not only have we had AF appear in the american comics ( issue 31 ) but I have seen many customs of these guys popping up recently ( Please people, !! submit these to the gi joe collectors club so we can get official releases!!! PLEASE LOL sorry little ad there)
So ya we choose stories that had Characters from the US and original characters from the UK. The exception to this in the collected volume I was Tracker and later, the short 87 page Snake eyes strip, but Tracker was again chosen because of Quarrel. Snake eyes was because it was short and hes popular
paul wrote:
-............The colouring, also, is pretty amazing! I don't know how you guys do it, but it looks great and is so impressive!

ya they did a incredible job didnt they we have been soooo lucky for sure and lots more to come
paul wrote:
[color=#FFFF00.................................So, are more Ironblood stories planned for volume 2 rather than Cobra?
I so love this book and will very happily have volume 2, 3, 4 and whatever you decide to make. Its really great and, once again, thanks for making this possible!



[/color]
YES volume II is called BLOOD FOR THE BARON right now ( and this is subject to change )
I have volume II containing
Action Force
Iron Blood
death Castle
Menace of the Baron
Operation Sea Lion
Jungle of Terror
Assault on A-toll Z
Death of a Hawk
Revenge of the Red Shadows
and Possibly Death in South America ( if we can get it finished )
so ya lots more of those stories coming up
paul wrote:
[color=#FFFF00
I so love this book and will very happily have volume 2, 3, 4 and whatever you decide to make. Its really great and, once again, thanks for making this possible!



[/color]
Im really really loving it that people are enjoying this book as much as I am, thank you for your questions, I loved them , I didnt think anything negative about it at all so I encourage more questions like this so thank you for the GREAT questions as you can see from my long ass post I enjoyed answering them LOL ( hey I like to talk)
so keep them coming, this is for all of us and we need your input, I want to hear the GOOD and THE BAD as long as its constructive criticism that we can use to make later volumes better!
with that said, wasnt anyone ever curious to the whole nightmare thing?
hes obviously met both Quarrel and tracker before that issue and he has killed many many AF personel but we only ever got to see one story arc with him in it
thanks again for the great questions