GI JOE EXTREME SEASON 2 CARTOON REVIEWS COMMENTS eps 14-26
Episode #14
Season 2: Episode 14 "Skar Under Siege" Reviewed
Episode 14 Skar Under Siege
Teaser
Episode 14 brings the announcement that we have all been waiting to hear: Iron Klaw is dead! Rampage sets out to rob Fort Knox in order to fund his factories and the Joes battles back the Skar attack. The episode concludes with the knowledge that Clancy has actually been .....................................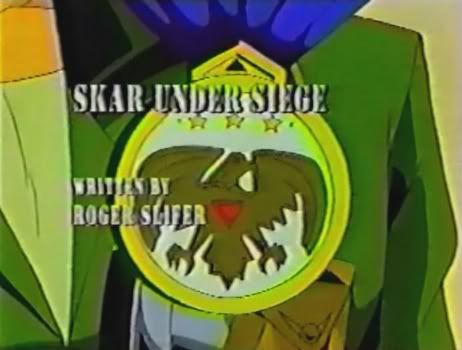 GI JOE EXTREME EPISODE 14 S.K.A.R. Under Siege
Review by : Ecmagee1984 and Jamar Miller
The episode starts off with the GI Joe team receiving medals for beating Iron Klaw (episode 13). The President goes on TV and tells everybody that Iron Klaw was defeat and S.K.A.R. doesn't have a leader. S.K.A.R. soldiers and Steel Raven are watching the telecast and are in shock about the news that there leader is dead.
[center]

[/center]
Rampage hears of the news, and wants to become S.K.A.R.'s new leader. Some of the Joes want to go out and party ( Metal Head and Black Dragon ) but Sgt. Savage stops them and points out that they didn't get dismissed yet. Lt. Stone okays it and Clancy agrees to it as well ( remember he is really IRON KLAW in disguise ) as he needs time to figure out what to do next .
Lt. Stone and Sgt. Savage are talking about what happen, Lt. Stone doesn't think Iron Klaw is dead (He wants to see the body).
[center]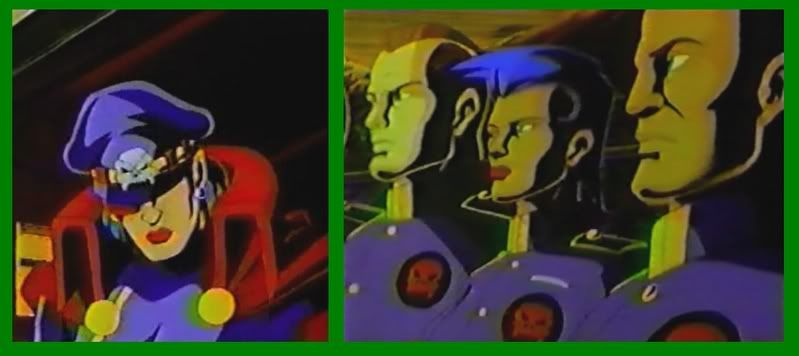 [/center]
Steel Raven thinks about S.K.A.R., and how she started with the group. We get to see a young Steel Raven here before she received her eye patch . Suddenly, Raven gets a call on her personal armband communicator, and it's Iron Klaw.
He tells her to keep his army together and not to tell anybody that he is still alive. Then you see that Iron Klaw is dress upped as Clancy.
Rampage is gathering up his robots but he only has three. He wants to know why he doesn't have any more robots, but his Michael tells him that he doesn't have any money to build more. Rampage gets Michael to tell the S.K.A.R. soldiers that he is going to rob Fort Knox.
[center]

[/center]
He starts the attack on the fort, but GI Joe comes in and cleans up the S.K.A.R. troopers. They talk about how the soldiers aren't fighting hard with out Iron Klaw. The Joes take Rampage as a prisoner, but they are attacked by S.K.A.R. Sky Stalkers.
[center]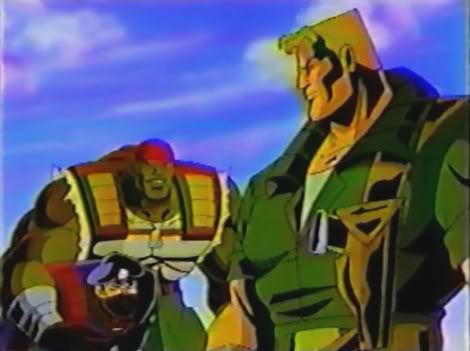 [/center]
They try to take out the Jets, Quick Stryke catches a ride on one, and takes control of it. Two other Joes take out the other plane, and Steel Raven finally gets her first Dogfight with Mayday.
[center]

[/center]
Steel Raven has the advantage as she is in the Jet and Mayday in the helicopter with Metal head. The fight starts turning bad for Mayday so she enters a tunnel where Steel Raven can't follow. Steel Raven immediately flies ahead to the other side and awaits Mayday. Mayday and Metal head spot a tanker , stops it and evacuates the pilot. Out side Steel Raven gets impatient and fires missiles into the tunnel. The missiles hit the gas tanker and the resulting explosion fries Steel Ravens guns.
Without anyway to attack ,Steel Raven flies off swearing she will get her chance again to defeat Mayday in a Arial combat one day.
[center]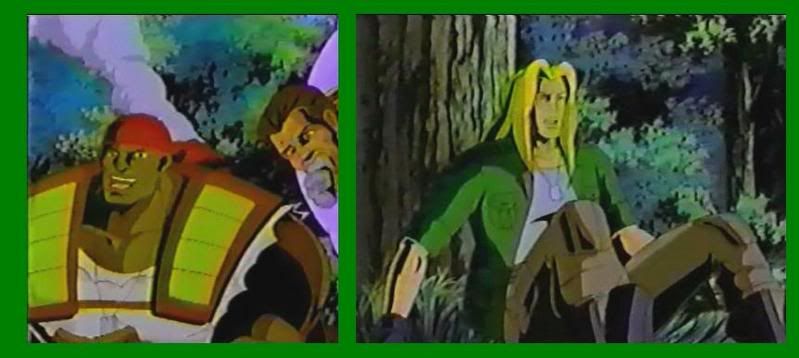 [/center]
On the ground the JOES want to know how S.K.A.R. knew about where they were at, completely unsuspecting of Clancy. The Joes leave with their prisoner Rampage.
Later at a S.K.A.R. BASE Iron Klaw is talking to Steel Raven via a telecast from Clancy's office She apologizes to him for her failure but he tells Raven not to worry about the failed attempt and that she did good job and ask her if she got the much more important thing he wanted. She replies "yes" The much more important thing turns out to be the real Clancy !
[center]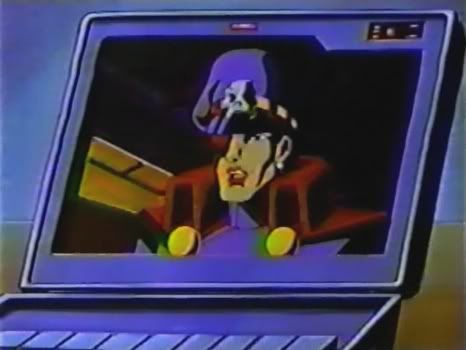 [/center]
Iron Klaw wants Steel Raven to get all of the pass codes and information Clancy knows about especially any information on the Joes . Steel Raven is delighted at this order and starts to pull out her interrogation tools. Much to Clancy's dismay.
[center]

[/center]
Comments by: GI JOE Heaven
http://firefly05.proboards39.com/index. ... ijoeheaven
This was the first episode that I had seen from season 2 and I was very impressed. Not only has Extreme continued with great stories and character development, but the structure of season 2 is fantastic. Not only does this episode have it's own story that plays out, but it also carries on the larger story of the apparent death of Iron Klaw and the infiltration of GI Joe by the very much alive Iron Klaw with plenty of twists and turns. The only downside to this episode was the Rampage. He appears to have no authority over his own factories so must rob Fort Knox to pay himself to start up his factories again.
[center]
[/center]
The story /episode lays a lot of ground work, but with the Rampage side story fizzling out the action is a little lacking. On a positive note it is great to have Ravens Backstory introduced and I look forward to a future episode explaining more of her back story and the loss of her eye.
Special Interest Notes by Jamar Miller :
This episode is the first of the second season episodes and a lot of changes are immediately shown
1. Ballistics name has now been changed to Eagle Eye
2. Metal heads outfit is now more realistic and a lot cooler looking
3. Freights uniform changes slightly too, gone is the blue shirt and is now replaced with the much more realistic white shirt. This is the freight I remember and like. The blue was okay looking but this is just so much more realistic.
4. Steel Raven also gets a updated uniform, This one more reflects Iron Klaw's own uniform as well as the SKAR Special forces uniform too
5. This episode also shows how important Steel Raven is to Iron Klaw as well as showing a younger Steel Raven before she lost her eye.
6. Mayday slightly updated uniform is also present
7. Something that is really, really noticeable in the second season episodes is when we got to a new location at the bottom of the screen it tells us where we are at. It gives us a more Military feeling somehow , which was something that was missing a little from the first season
8. Rampage may be a brilliant business man but he ends up being a selfish leader on the Battle Field, caring little for his men
Sgt Rocco Does S2: Ep 14 "Skar Under Siege" Review
[center]Episode 14 – SKAR Under Siege [/center]
Reviewed by Sgt. Rocco
I know Jamar and Ecmagee1984 has already reviewed this episode, but of all the episodes of Extreme that I've now seen, my favorites were part of a multi-episode arc in Season 2 involving an assumed-dead Iron Klaw stealing Clancy's identity as government liaison to and essentially commander of, the Joe Team.
This aspect of Extreme that came into being in Season 2 – episodes that worked stand-alone but also played into a serial story-arc, was one of the most thrilling and sophisticated thing that Extreme had to offer.
Let me get the bad stuff out of the way first – there are, to my mind, some major flaws to the Extreme cartoon show. These flaws are present in all the episodes, and they make the series, which has some very good points, awfully hard for me to watch. The flaws are thus:
1. Some gratingly over-the-top voice work, especially in Iron Klaw (too gravelly), Sgt. Savage (too shouty and Sgt. Slaughter-like), Freight (too gruff ), Heavy Metal (too Ninja Turtle), and, to some extent the John Wayne/Sgt. Savage I/Optimus Prime style drawling of Lt. Stone.
Irritating voice work isn't the invention of Extreme… in the Sunbow series the shouting of Serpentor and the growling of Sgt. Slaughter was enough to make me want to turn the show off… but on Extreme, there sure are a lot of silly voices.
2. Ugly colors/coloring. There are a lot of oranges and purples, and of course, the weird black shadows everywhere, that are a bit of an assault on the eye.
3. Poor animation. Particularly when characters or vehicles are supposed to be receding from or advancing towards the camera at an angle, it often looks like they are moving diagonally.
So, the show is, at times, hard to watch or hard to listen to – I can rarely sit through more than one episode at a time, but it is usually dramatically compelling, and sometimes more sophisticated than prior incarnations of Joe.
[center]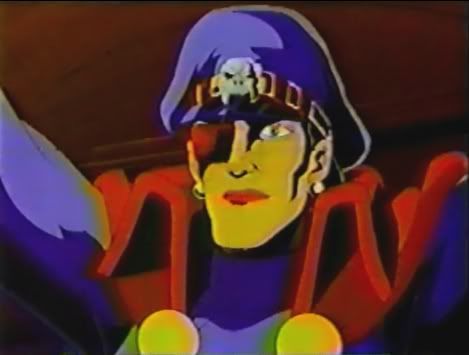 [/center]
All right, now that the complaining is out of the way, here are my thoughts on the episode. Jamar has already described the plot, so I won't recount it here, but there are some major elements presented here that are very intriguing.
The savvy, sultry SKAR field commander by the name of Steel Raven is here introduced and given hints of a back-story. We learn that she joined SKAR because she was truly inspired by it's elitist ideals – and that all SKAR members are genuinely driven by Iron Klaw's fascist philosophy and by his charisma. It seems like her interest in Iron Klaw is purely that of an acolyte, but perhaps there is even some romantic attraction there.
[center]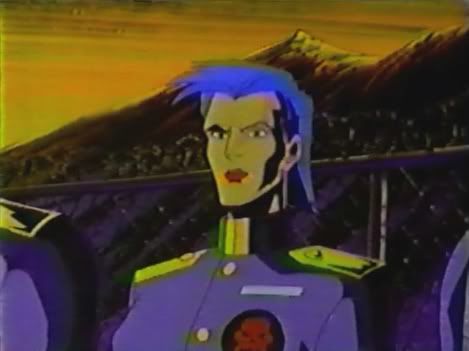 [/center]
Also, we know she didn't already have an eye-patch when she joined SKAR, so there is a story somewhere of how she lost her eye. One that, sadly, will never be told.
Oh, and the episode establishes a rivalry between Mayday and Steel Raven – both pilots. Again, this never came to a head, but many ideas were frontloaded here.
[center]

[/center]
And, lest I forget, we see that Steel Raven is not above torturing Clancy (with an ELCTRIC WHIP, no less!) for info… as a matter of fact, she relished it. Great character.
We also get some development of the Rampage character, albeit in the form of a sort-of comic subplot. When the false information gets out that Iron Klaw is dead, Rampage decides he should take over SKAR. I don't know why a successful arms dealer would want to take over SKAR… it seems like an unnecessary hassle, (After all, Destro never tried to take over Cobra until he realized that it was the only way he could get Cobra Commander to stop bugging him.) but then, Rampage is not a normal successful arms dealer… he's a nut.
I would imagine that the experiments that lead to Rampage being a hot-head who turns into a green monster took place after he successfully built his company. (Unless he is just a Santino Corleone-type hot-headed heir to a pre-established empire.) The screaming, trigger happy Rampage we see here could have never built a business empire.
[center]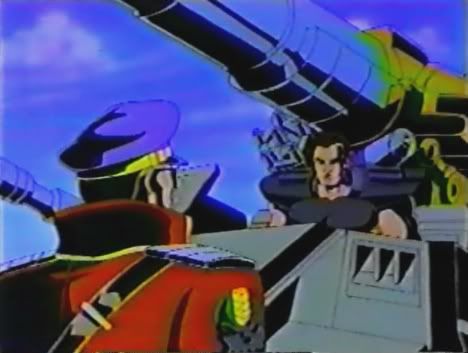 [/center]
What we learn is that, when Rampage grabs some SKAR troops (how, I don't know) and tries to rob Ft. Knox to bankroll his robotic operations and prove himself a worthy SKAR leader – he mucks it up badly. As a matter of fact, he's got no plan and motivates his troops purely through threats (and by shooting at them over and over). He is quickly routed by the Joes and left as a hostage by Steel Raven. Iron Klaw/Clancy even puts him in the direct line of fire of a SKAR ambush. A longer EXTREME series might have given us a better idea of how such a temperamental moron 1. came to be, 2. came into possession of such an empire, and 3. conflicted with Iron Klaw down the line.
[center]
[/center]
By then end of this episode, while Lt. Stone is suspicious that SOMETHING is afoot, Iron Klaw is still comfortably operating out of the White House, Steel Raven has become de-facto leader of SKAR, and Clancy is getting electro-whipped by a chick in an eye patch.
I'll be doing writing reviews of each of the "Iron Klaw as Clancy" episodes, mostly with an eye towards what compelling ideas where introduced that made for good TV and would have played out in an interesting fashion over time.
As usual, I find Extreme to be flawed, but far more interesting than it was given credit
for. Much better than DIC Joe, and not entirely unlike C.O.P.S.
Now watch the entire episode in 3 parts here
Part 1
Part 2
Part 3