GI JOE EXTREME CARTOON SERIES SEASON ONE Eps 1-13
EPISODE #1
Episode 1"Summoning of Heroes " Reviewed
Review done by:
jamarmiller
G.I. Joe extremes first episode titled the Summoning of Heroes does something that no other Joe series had ever done and that is show the team being assembled and becoming a GI JOE team. This episode not only shows that but show their first mission together.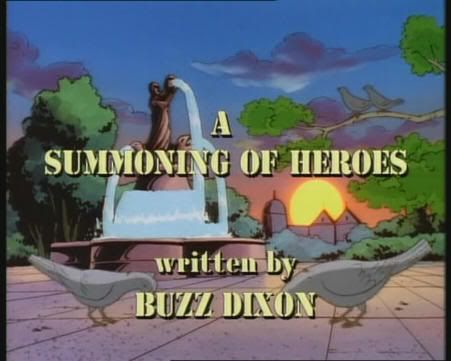 The episode opens up with Iron Klaw walking into a computer room to get a situation report on SKARs latest operation. Inferno, Rampage, and Wreckage all report success.
Iron Klaw is happy and exclaims "SKAR will reign supreme"!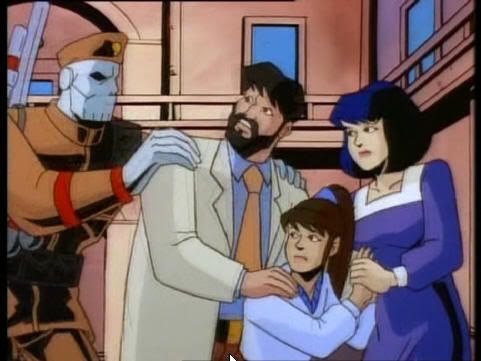 It is interesting to note that the three Henchmen are representative of 3 very famous and classic monster characters. Rampage is Dr. Jekyll and Mr. Hyde. Wreckage is Frankenstein and Inferno is the devil / Trickster. Fortunately, as the series progress, they will become very cool villains with a lot of characterization and history involved.
After the situation report we cut Kalistan the fictional European country of Count Von Rani which will be the backdrop of many many episodes. Count Von Rani is welcoming a group of scientist and thier families and friends, to the first Scientific Conference in Kalistan when suddenly a squadrons of SKAR forces attack under the leadership of Wreckage. S.K.A.R. troopers seize the scientist and their families and leave.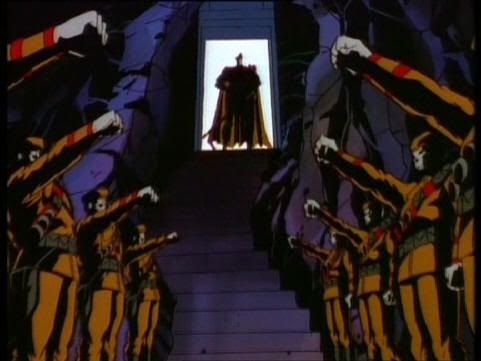 Later in Count Von Ranis' Chamber, we see Count Von Rani himself looking out of a window contemplating the day's events. In walks a Soldier in the S.K.A.R. Troopers design he salutes Cont Von Rani and begins to talk by saying "Iron Klaw", when suddenly Von Rani punches and knocks down the soldier. Count Von Rani is furious and tells the others to deal with him. No one is to mention Iron Klaws name in Cont Von Rani Chamber, but why?
Cont Von Rani walks to a secret door and enters into an elevator that leads to a subbasement level underneath the Castle, In the elevator we learn why no one is to mention IRON KLAW in Count Von Ranis' chamber, because Von Rani is IRON KLAW! When the door opens he has changed into Iron Klaw and he enters the underground base to the chant of IRON KLAW by his SKAR TROOPERS!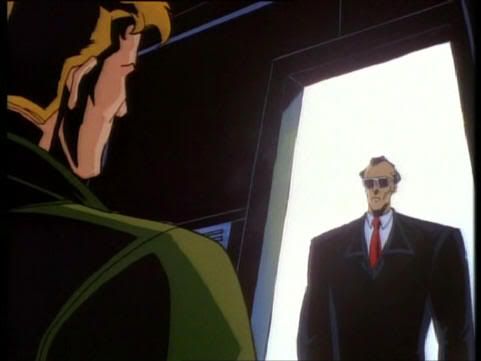 In another part of the world we cut to an S.K.A.R. trooper getting thrown across the room and knocked out along with a whole squad of S.K.A.R. Troopers. The camera pans over to LT. Stone and Sgt. Savage. They appear to have been working together for quite sometime now and they do it well. The Scar troopers are no match for the two man team. Once all the SKAR troopers are defeated a door opens and a man in a suit appears. His name is Clancy and he tells the LT and Sgt. That this was just a small part of the operation. Interesting to note Clancy must have been watching Lt Stone and Sgt Savage for quite some time now as he knows them both and wants them to lead his new team of Joes.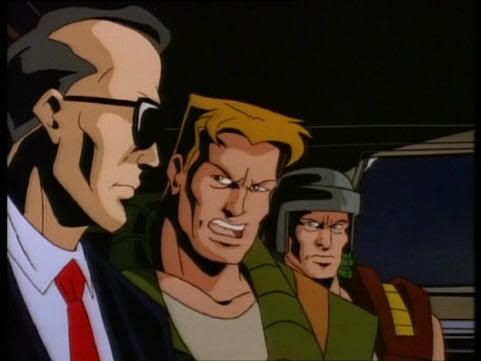 Sgt Savage and Lt. Stone go with Clancy on a limo ride to hear more of what Clancy has to say. As the Limo goes by a man in black spies on the limo and silently grabs a hold of the limo and hides underneath it. Clancy briefs the two on the IRON CLAW and SKAR and he tells them that the Inter Alliance needs a team to combat SKAR. As they enter Clancy's secret base located underneath a barn Lt. Stone says we don't work for suits, and Clancy responds "Just hear me Out". Once in the base they go to the computers where we see for the first time Metal Head at the computers. Who briefs them on the latest efforts of SKAR.
Lt. Stone says we need to get Black Dragon , when suddenly the man in black jumps down with swords Drawn!. Clancy yells intruder alert! But Sgt. Savage just says relax this joker is Black Dragon. Sgt Savage then chimes in and recommends that they need more specialist if their going to kick SKARs butt. Metal Head pops up and says he wants to be counted. Clancy assures them that Lt. Stone will be able to pick the team and that he will make sure they have the equipment, the support personnel, and the best Pilot in the Inter-alliance. Lt Stone and Sgt. Savage at first are totally against the idea but when they see what Mayday can do with the limo they reluctantly agree telling Clancy that is his last contribution.
Lt. Stone and Sgt. Savage split up to recruit 2 more operatives. In a County fair, Lt. Stone accompanied by Mayday recruit Ballistic (later to have his code name changed to Eagle Eye due to a security leak).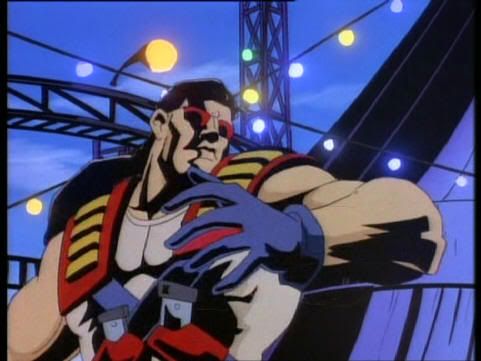 Sgt. Savage Recruits the best Navy Seal Har.poo.n who just thwarted a SKAR attempt to Kidnap some more scientist on an Oil Rig.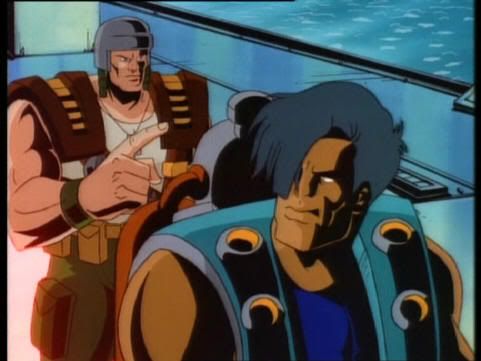 Later they team members all meet up on a secret Island later to be referred to as Joe ISLAND . This island would also serve as their military base for the rest of season 1.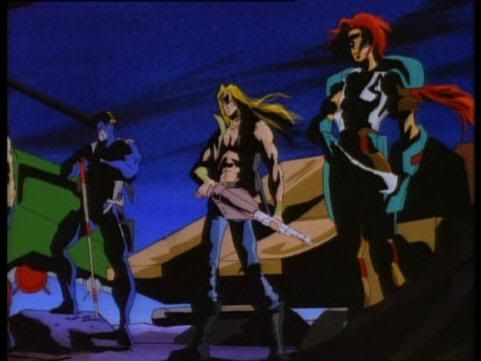 On the island now stands 7 Elite soldiers, Lt. Stone, Sgt Savage, Black Dragon, Metal Head, Mayday ,Harp.oon ,and Ballistic / Eagle Eye. Mayday points out that their a little short for a 3 man team simultaneous strike force, when Quick Stryke joins the team much to Lt Stones dismay and distrust of him as a mercenary ( See episode 3 Point of Honor as to why).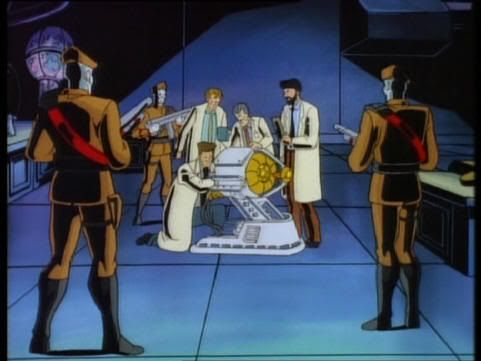 Back at the SKARs base where the scientist is being held Iron Klaw threatens the scientist with making their families suffer if he is not pleased. When he leaves the scientist decide that blowing up the weapon their working on with themselves is the only way. Their death would be a sacrifice to end Iron Klaw Tyranny!
Elsewhere simultaneously we see the 3 teams of Joes launch their attacks to rescue the Scientist families. The first team consists of Mayday Harp.oon and Metal head and they attack Rampages Factory. In the mist of Fiery rage Rampage sees Mayday for the first time and her beauty stops him in his tracks and he proclaims he is in love!
Team two, teams up, Black Dragon and Quick Stryke against Wreckage. And team 3 consists of Lt. Stone , Sgt Savage and Eagle eye whose target is a Jungle base ran by Inferno. After all 3 teams are successful in their assaults . Lt Stone and Sgt Savage return to the Island to get transportation and head to the main SKAR BASE where the scientist are being held telling the team to back them up. The team responds and are on their way to take out SKAR.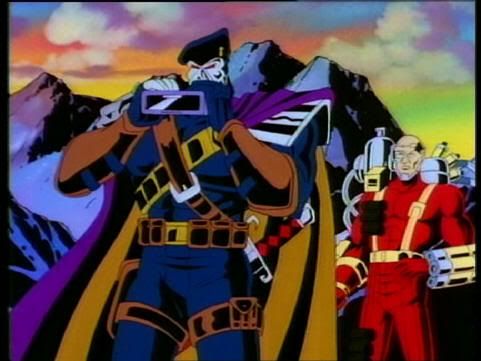 Once the battle erupts, things don't look to good for the Joes against such superior numbers and odds but when things are just looking down the get reinforcements from a Parachuting Freight who is just enough to turn the battle in the Joes favor.
Lt, Stone goes hand to hand with Iron claw and fights to a standstill with neither besting the other, The scientist tell the Joes the weapon will blow in 60 seconds prompting all parties to ditch the base.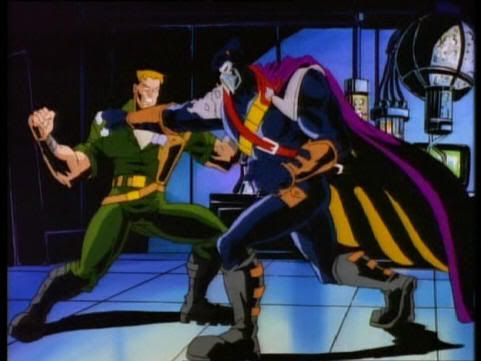 Iron Klaw watches his base blow up standing on a retreating Submarine and promise those responsible will suffer terribly, suffer horribly!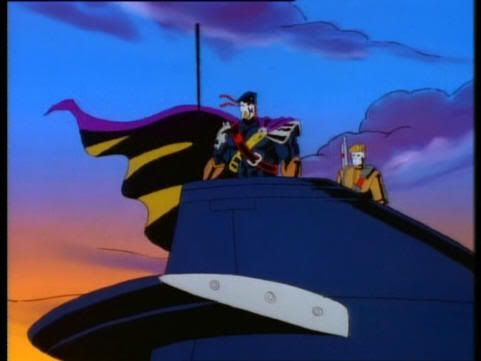 The Joes return to base and get ready to leave with their operation a complete success. But Clancy tells them their still needed because SKAR is far from being defeated. They agree and Clancy tells them that their code name will be GI JOE !
Metal head says " Extreme dude totally extreme!
Thus ends the first episode.
Finale comments:
This is a great first episode for many reasons there is a lot established in this episode from both the main cast of the Joes and the SKAR soldiers. We learn Rampages only real weaknesses and that is his love for Mayday. We actually get to see a GI JOE team being formed as well.
This episode is also written by the famous
Buzz Dixon
who also wrote the bible for this series, as well as being one of the main forces behind the original Sunbow GI JOE A Real American Heroe series
A great episode to start a great series
Read the review?? want to watch the episode ??? well watch it here and enjoy !!
Part 1
Part 2
Part 3