DVD SERIES INFORMATION
SO I get people asking a lot can I buy GI JOE EXTREME on DVD. Well the answer is yes you can buy the first 6 episodes on DVD for very very cheap prices.
GI JOE EXTREMES first 6 episodes was release on DVD in the Netherlands it has dutch sub-titles (but you can just turn them off) but is in English. They are usually really cheap I paid more for shipping. I got the DVDS delivered to my home in Japan for about $20 US dollars.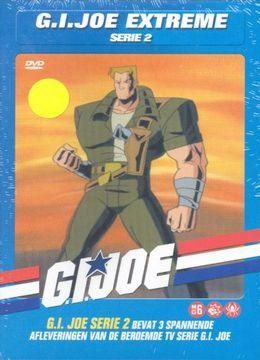 Interesting to note is, from the pics you can see immediately it has the Real American Hero Logo on it and not the GI JOE EXTREME LOGO. The DVDs also have this logo on it and not the Extreme Logo. Personally I think this is marketing brillance as the original logo has alot more recognition.
And they do it again on the Menu selection which you can see here for both DVD 1 and 2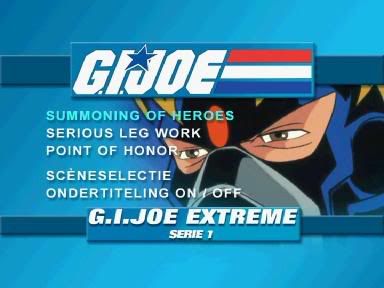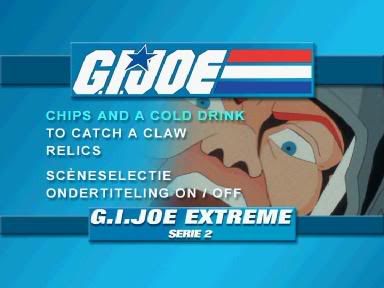 The Big thing / Hard thing is its region 2 ( I have a regions free DVD player so its no problem for me) and you have to find some really cool dude to help you get them as most of the places on-line won't ship overseas.
Here is the back covers (again ) featuring the Real American Hero Logo . I also want to note how the back cover actualy shows 2 scenes from
season 2
finale 2 episodes. In the second scene you can see what Metal heads second season outfit looked like and how it changed and looked so much better than the first season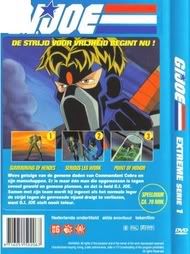 I highly recommend you buying these DVDs, the first 8 episodes in the series are single character based so you get to know theses characters rather quickly and good and heck there cheap. The one thing that i liked about extreme is so many of the characters had a lot of story and characterization to them, it wasn't all based on just one character like the Comics are on Snake eyes and Storm Shadow . Many of the characters had in depth back stories or connections made. Its nice to see a series take these kind of steps in the overall story .So go help buy them increase their sales and maybe we can get the whole series released on DVD. Any other questions let me know.
Here is what the actual DVD looks like again notice the RAH logo displayed on the DVD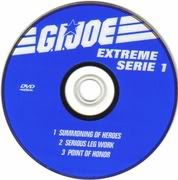 here are some links to the online store
http://www.dvdoutlet.nl/cgi-bin/web_sto ... item=10334
http://www.dvdoutlet.nl/cgi-bin/web_sto ... item=10334
Now I would recommend finding maybe some ( a individual to pick these up instead, Oursborous from the DD comic message board hooked me up)
Here is a Episode listing with the released episodes on DVD in Bold
GI Joe Extreme -- Cartoon:
1995 -- Season 1
Summoning of Heroes
Written by Buzz Dixon
Serious Leg Work
Written by Julia Jane Lewald
Point of Honor
Written by Rick Merwin
Chips & a Cold Cold Drink
Written by Richard Mueller
To Catch a Klaw
Written by Mark Edens
Relics
Written by Mathew Edens
"Dawn's Oily Light"
"Crawling from the Wreckage"
"Extend a Helping Klaw"
"Now Hear This"
"Winner Take All" Written by Katherine Lawrence
*
"Coup of the Klaw"
"Rebellion"
1996 --Season Two
"Skar Under Siege"
"Operation Underground"
"A Traitor Among Us"
"Iron Klaw Unmasked"
"The Search for Clancy"
"Sabotage in the Skies"
"The Silencers"
"Rampage for President"
"The Hard Road Home"
"Wreckage: Revenge!" Written by Steve Englehart
**
"Fear at Fifty Fathoms"
"Metalhead Goes AWOL"
"Betrayal"
*
You Can find the Late Katherine Lawrence website here
http://www.christymarx.com/kath/kathindex.html
**
You can find Steve Englehart Website here :
http://www.steveenglehart.com
GI JOE EXTREME VOICE ACTOR CREDITS and NOTES
Credited cast:
Jim Byrnes
.... Nelson
????? WHO?? ??? ( (did voice work for Beast machines as Thrust and Inferno from Beast Wars also appreared in Highlander the series as a regular)
Randall Carpenter .... Mayday
Gary Chalk .... Lieutenant Stone ---(Transformers Optimus Pime and Beast wars Optimus Primal)
Ian James Corlett .... Kidwell 'Inferno' Pyre ( Cheetor from Beast Wars Beast Machines )
Angela Costain .... Sawsad ????? WHO??
Michael Dobson .... Sgt. Robert S. Savage
Paul Dobson .... Additional Voices
Brian Drummond .... Albert 'Ballistic' Salviatti/Eagle Eye'
Matt Hill .... Matt 'Metal Head' Hurley
David Kaye .... Sly/Additional Voices ????? WHO??
Terry Klassen ......Black Dragon 1st season
Tong Lung ...........Black Dragon 2nd season
Campbell Lane .... Clancy
Blu Mankuma .... ...Freight / Quick Stryke' (voice for Heavy Duty from Spy troops / Valor vs. Venom)
Colin Murdock .... Rampage
Richard Newman .... Iron Klaw (Count von Rani) (voice of Rhinox from Beast Wars)
Elizabeth Carol Savenkoff .... Steel Raven
Francisco Trujillo .... Jose H. 'Har.po.on' Montalvo'
Dale Wilson .... Wreckage/The President/Red (was the voice of Captain Grid-Iron on the DIC GI Joe series )