Captain Meeda : Declassified
Captain Meeda* : Declassified
*Subject is not a Member of the Elite Counter Terrorist Team : GI JOE or it's GI JOE EXTREME Operations Sqad . Subject is profiled here because of her contact and involvement with the Team on a recent Operation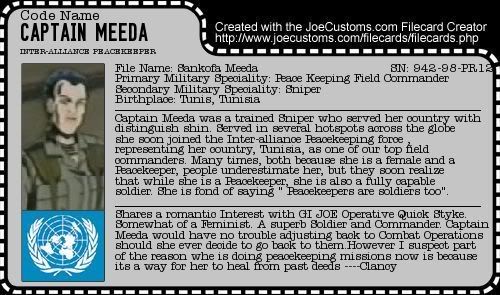 Current assignment : Field Commander of an Inter-Alliance Peacekeeping Force to War-torn Countries in Europe
Episode appearace : Episode 22 The Long Road Home ( Operation reviewed here:
http://firefly05.proboards39.com/index. ... 271&page=1
)
Data:
Has a romantic relationship with Specialist : QuickStyke

She is a fast thinker and can improvise quickly. Her soldiers highly respect her and trust her. On one mission when her entire team was captured, they had all given up hope of rescue when they discovered they were being held deep in the Mountains in the War Torn Country of Czurobia and under water.

However thanks to Captain Meedas' quick thinking she was able to get a SOS out the GI JOE SPECIALIST who were tracking there whereabouts by using the sunlight to signal.