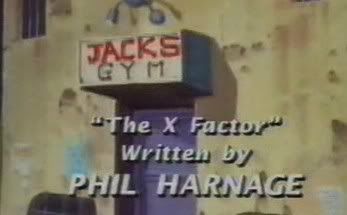 Episode 14 : The X Factor

Special Note By Jamar : Okay this is a Knuck centered episode, and its the only one in the series that spotlights him. So I like this episode especially as its a nice break from the always Action Man centered storylines. Natalie does get two episodes that really make her shine in the series but Knuck only gets one. Anyway We finally get to explore the Knuck character a little more and also see him shine for once ( At the time of this writting I am missing 2 episodes from the series so it is possible there is another episode that spotlights him ) We get to see a lot of characterization from him and so I really enjoy this episode a lot. Okay now on to the review!
Review done by: Raymond Blakey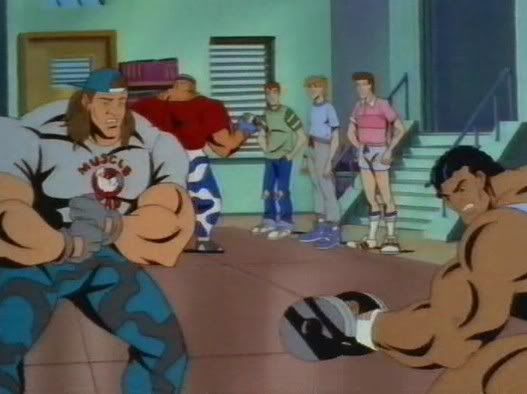 This episode forwent the inconvenience of having a plot in favor of a strong, moral message. So, don't be surprised if this particular summery is a bit short. The story opens in Chicago, USA. There we see a place called Jack's GYM, run by the afore mentioned Jack. You know this because he has Jack written across his muscle shirt. Jack is clearly designed to look like Hulk Hogan and is , naturally, a VERY large man.

He is wearing the ugliest pants I've ever seen a cartoon character wear. When we meet Jack he is trying to convince 3 skinny kids to join his Gym along with free samples of his all new Vitamin X.

Special Note by Jamar Miller : Below is the first Flashback for Action Man in this episode. Now at first glance people may think this is the school that was shown in earlier episode flashbacks but it is not. The earlier school was in fact a university and it was of course when he was older. This looks more to be like when Action Man is in middle or early high school years and therefore a middle or High School campus

Special Notes by Jamar: So why is this important? Well Action Man doesnt know his real name or what happened to his parents or who they even are, if he can figure out where this school is maybe he can find a teacher or some records that knows his name, thus revealing his past, who his parents are who is brother is and perhaps what has happened to them as well too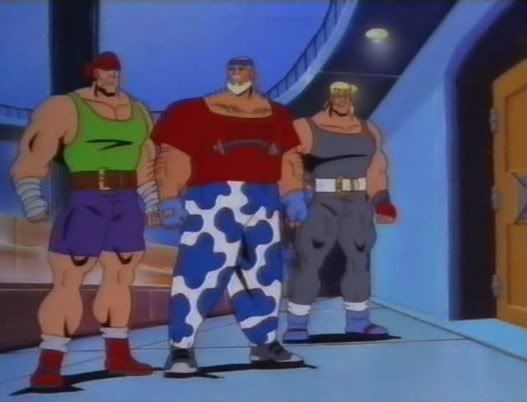 Some time later Knuck asks Action Man to go with him to check on his nephew Tom. Tom was one of the skinny kids Jack was trying to get to try Vitamin X. When Knuck finds Tom he is wrestler big. We find out that Gangrene has inventive a highly addictive super steroid and Doctor X is using it to create an army of super soldiers… he is using the GYM as a testing ground for the drug.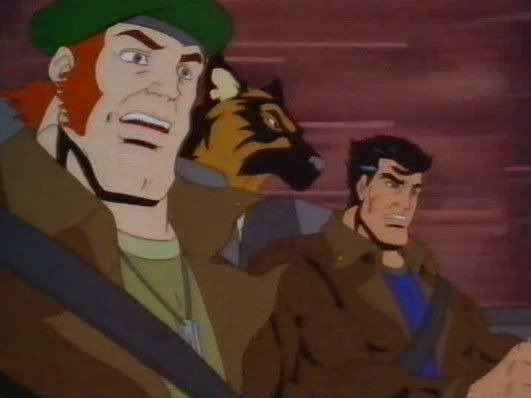 [center]Below we see Action Man in his obligatory Hasbros' Lets sell another toy of Action Man, in his S.W.A.T. team uniform. [/center]
To make a long story short Action Man gets Tom to help him bring down X's latest scheme while Tom struggles with his own dug addicted demons and almost ruins everything. But, in the end he learns that drugs are bad and that he can build muscles by simply working hard.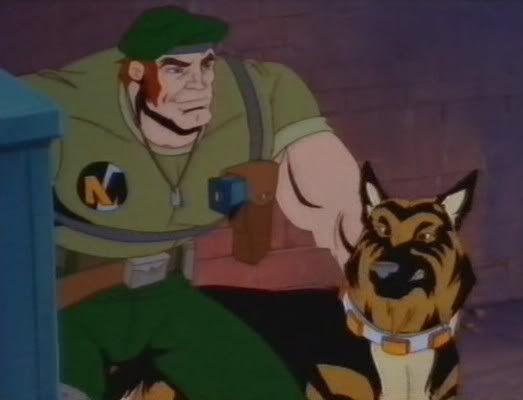 Finale Thoughts: An after school special of an episode, barely worth even discussing. The anti-drug message is like a brick in the face. When you look at things like the COPS anti-Drug episode which was very well written and interesting and the GI JOE DIC Anti-Drug 2 parter, which was toy-animation brilliance, this episode leave more than a little to be desired.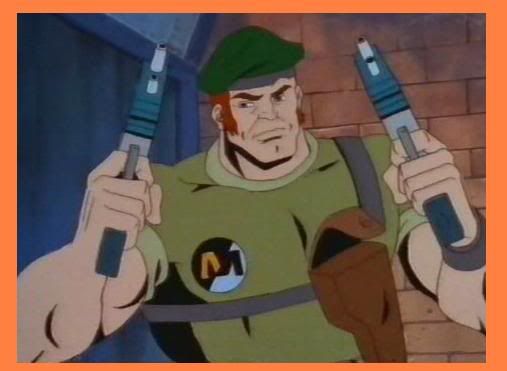 The characters are inane, the plot is overly predictable, and the idea is INCREDIBLY old hat. Also, using a Hulk Hogan look-alike as the bad henchmen of Doctor X is just kid of tacky and even when this episode was made was a tired old joke
.

We do get some flashback thing about Action Man possibly attending school once. I'm not kidding, that is the flashback in this one…"I went to school once." And, of course, Hasbro doesn't miss a chance to sell an AM toy. In this case it is a back pack accessory that could fire missiles. But, that about covers this lame-ass episode