Episode 25 : A Time for Action Part 1
Teaser:
Doctor X hatches a cunning plan to hijack an airborne gold shiment. With that amount of gold he would be unstoppable. Action Man and his team set out in defend the ship, bravely battling Doctor Xs' forces, but the gold still manages to mysteriously disappear and the treasure ship with Action Man on board is blown to smithereens
[center]Full episode review Coming Soon[/center]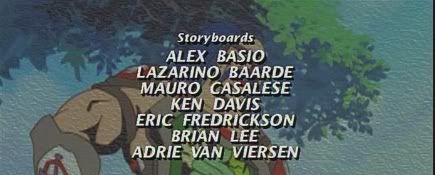 Ken Davis
( who's is interviewed here:
http://firefly05.proboards39.com/index. ... 1139698438
) was a story board artist on the Action Man series, and has provided some of his story boards and infomation for this very episode.
These are the first 9 pages (of a 260 page 'board) IKen Davis did for episode 25, the first part of the season finale two-parter.
The original pages were 11" x 17". This was for the DiC 2D animated series that appeared in 1995-96, and not the later Mainframe CGI series
.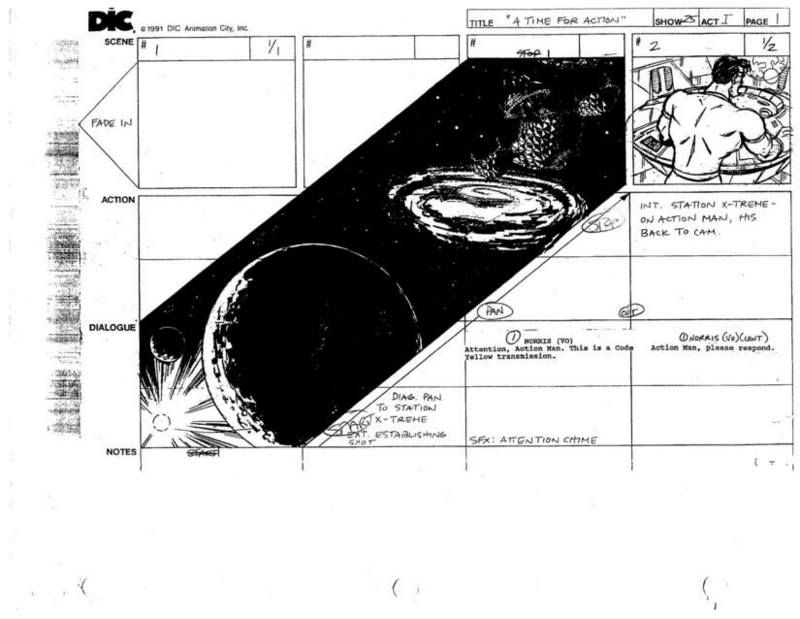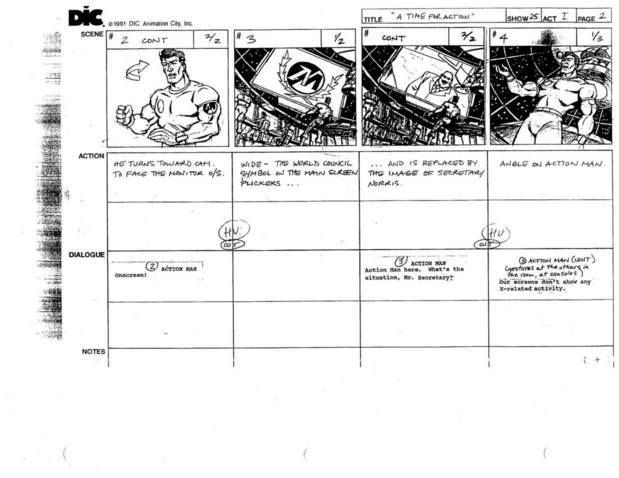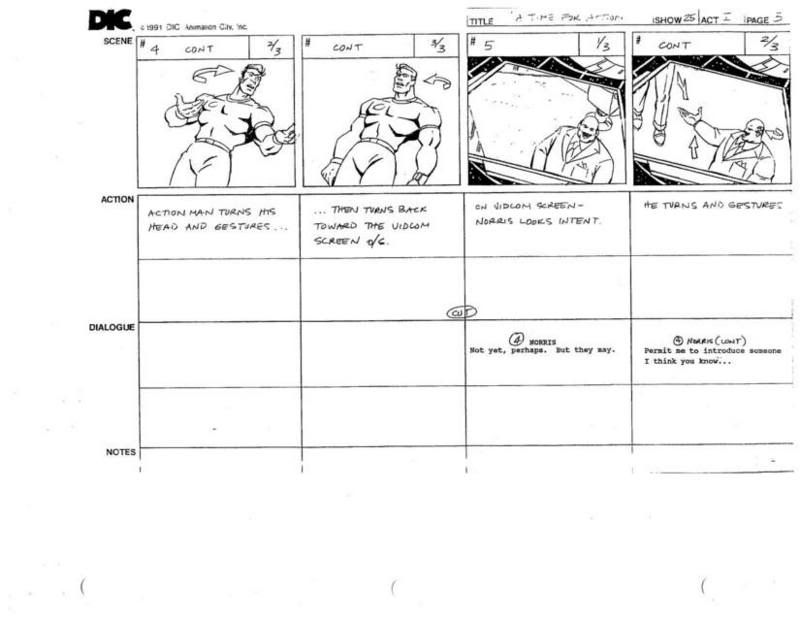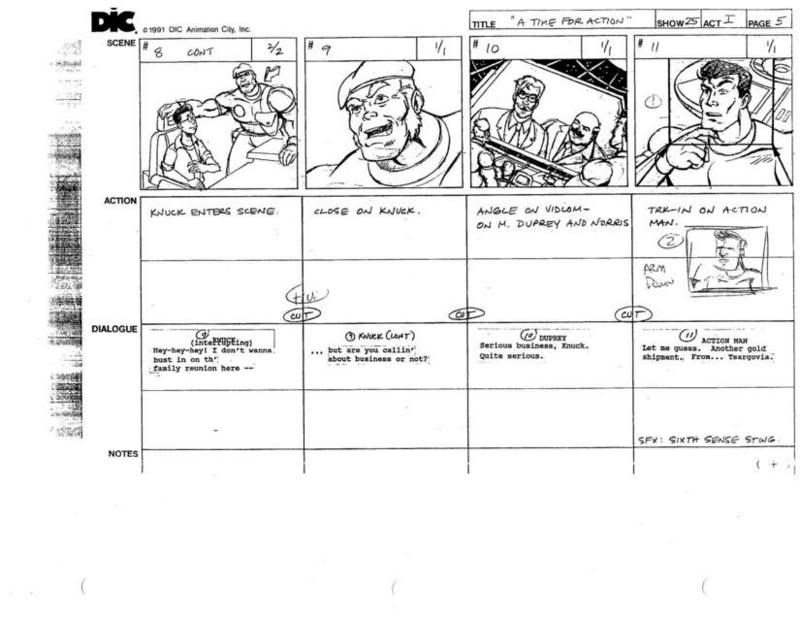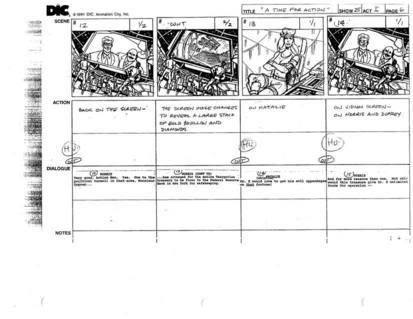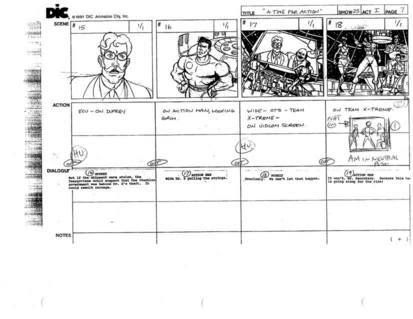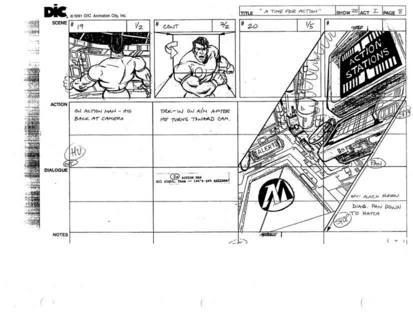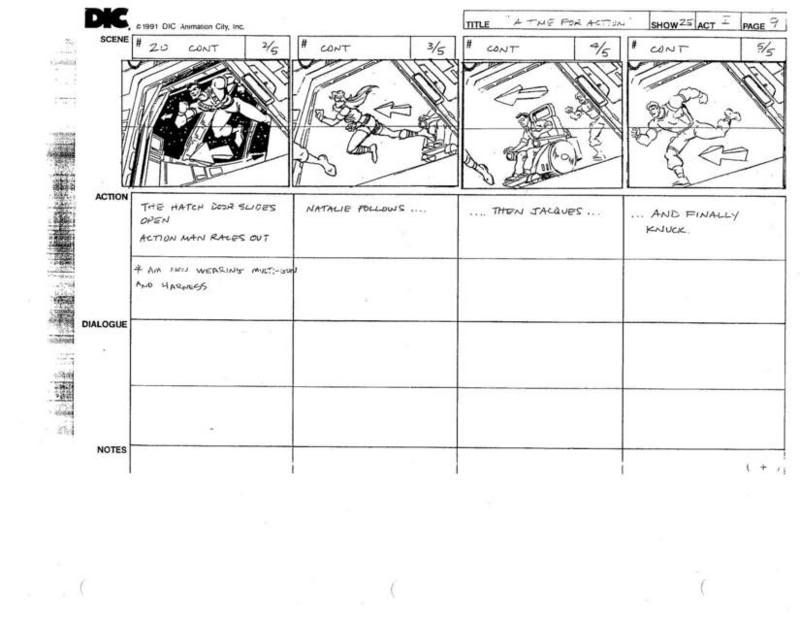 When asked about the work Ken Davis had this to say "260 x 4 panels per page--yea, its a lot of work--and if I were to do it today it'd be about 350 pages. The script is written first, and often a voice track is recorded. The script contains both dialogue and descriptions of the action.

The dialgue can suggest inflections and tones that can cue specific actions or emotions in the characters--so having that done first help us figure out what to draw later.

The actions can be subject to a bit of flexiblity in how they are interpreted, but the actual dialogue is consider sacrosanct (cannot be changed).
The descriptions are pretty general--they might call for a tight shot, or a wide one, but how the storyboard artist actually stages the shots is up to them because they may have a particular flow going with their shots.

Cartoons have been done this way for decades, but the only difference is that today they'd have even more panels to make the displayed actions work better when they shoot an animatic of the storyboard.
An animatic is the storyboard panels given a timing and shot under a camera to lend a faux kind of "animation" to the screen images.
This is being done to try to stem problems with the work when it gets sent overseas, by being very specific with what's supposed to be onscreen. Normally that degree of control would take place in the layout step where the scene are prepared before animation, but since THAT job also goes overseas now, they ask the 'board artists to pick up the slack.

Makes for a lot more work for

I'll give you an example of just how much work this can be:

An average comic book has 22 pages and about 6 panel per page or about 132 panels--and its usually drawn in about 2-3 weeks.

A 22 minute cartoon has a storyboard of around 300 pages, at 3 panels per page or about 900 panels and its done in around 4 weeks on average.
That's about the equivilant of doing SIX entire comics in just over the same amount of time.
Some boards are rendered with shadows and perspective just like you'd see in a comic--and in some occassions there's little distinction between the comics art and the storyboard art as both can be quite involved.

It can be a crazy workload at times--even when the storyboard is split between two people ".