Action Man : THE GANGRENE CODE CGI MOVIE

Here is the Opening Credits to the new ACTION MAN : THE GANGRENE CODE MOVIE :




The 3rd movie in the trilogy of, ROBOT ATAK and X Missions.

In 2006 and Only in Mexico,(where Action Man is hugely popular) the 3rd Action Man Movie ( that is not A.T.O.M. RELATED ) that's in CONTINUITY with X-Missions, ROBOT ATAK and the 1996/97 series ) was released

According to Hasbro UK employee stevie_e (http://www.tv.com/users/stevie_e/profile.php) here is what he posted on the tv.com boards

".............in 2006 we produced an exclusive toy line for Mexico........ The Mexicans also comissioned a CGI movie last year called 'The Gangrene Code". ......................."

"..............Hot off the press - I just spoke to the guys in Latin America and the movie is scheduled to be ready by the end of July, but most likely it will be released in August. in Mexico! only!" end of quotes.







Action Man :
The Gangrene CODE
THE MOVIE
The following Text was tranlated from the back of the movies DVDs case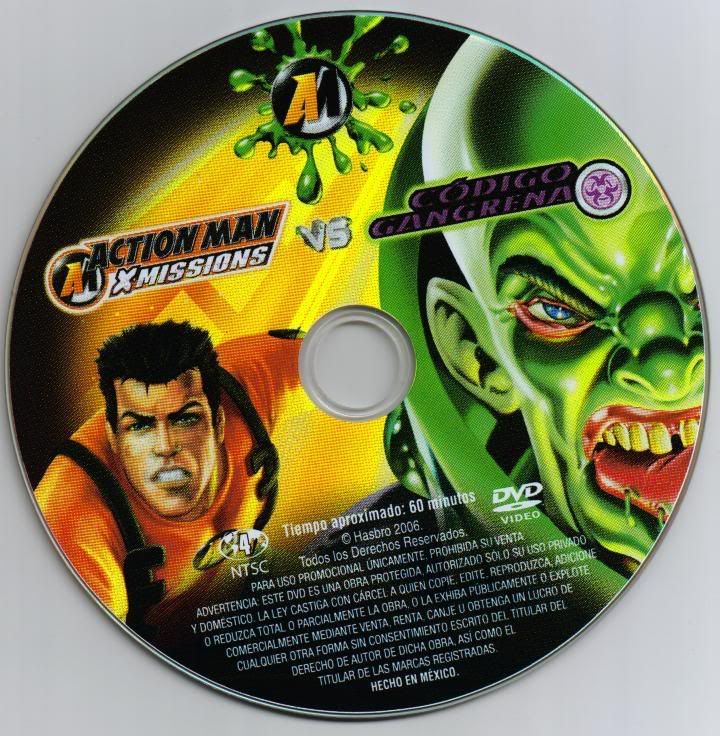 In the new Action Force Adventure , Action Man and his friends Flynt and Red Wolf , face one of thier most dangerous missions yet ! The crazy scientist , Professor Gangreen, attacks a prison holding Dr. X and No Face and releases them from the prison so that they help him in his magnificient crazy plan to seize the World.

Gangrene has created a horrible potion that has the power of mutating any thing, it is something malignant and super powerful. The worse part of this plan, is that Gangrene decides to use the formula of mutation on himself !

Using the ultimate tecnological equipment and the best and most powerful vehicles, the Action Force travels throughout the planet, trying to get ahead of the evil genius and stop his horrible plans.

Action Man, Flynt and Red Wolf Comes face to face with Dr. X's Robots, aranas mutadas, a giant serpent and a crocodile as they face off with the evil Dr X, No Face and a Super Mutaded Gangrene !!!

3-2-1 Action. Action Man and the Action Force work to save the world against....................
The Gangrene Code
Gangrene Code movie Preview:
http://www.youtube.com/watch?v=X80orH7L5Mw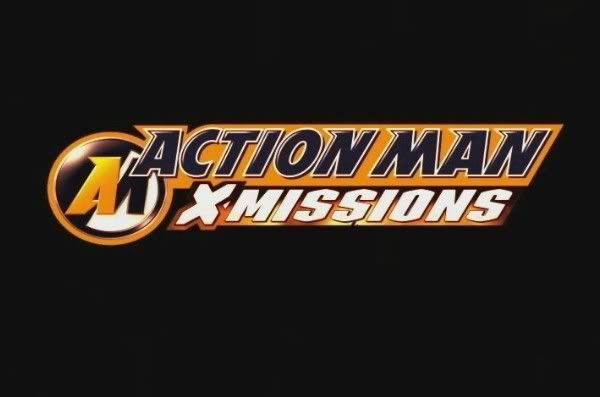 Action Man
The Gangrene Code
Movie Review/Summary
By Jamar Miller
Okay so before I begin I should make it known that I speak about 5 words in Spanish and so I couldn't understand what the people were saying in this movie since it's only available in Spanish. I am doing this review based on what I saw but I think I got a good grasp of what happened.

Now if you haven't seen the first two English Languages CGI Action Man Movies ROBOT ATTACK ( Reviewed with screen caps on this board and X-Missions do yourself a favor and either watch them or look at the reviews I did. Because this movie is definitely a continuation of those first two movies, thus making it a trilogy. This movie will make references also to the first two movies which helped me understand what was going on at times even though I couldn't understand the language. And with that said……………………………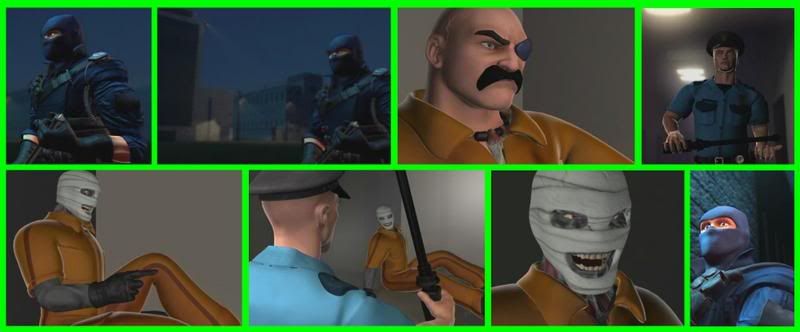 Action Man The Gangrene Code , opens up with an music opening much like the previous film opening ( opening can be seen here: ). After that, the film starts off at a maximum security prison . We get a quick look at all the security and personnel at the prison. In a nice bit of continuity the security Guards are the same blue Beachhead CGI model guards from X-missions the movie. Inside we see Dr. X and No-Face incarcerated, picking up quite nicely where the last movie ended. No- Face is complaining out loud and the guard on duty tells him to be quiet but No-Face and Dr. X start trading barbs blaming each other for things. Guard tells them both to be quiet and mockingly just laughs at them.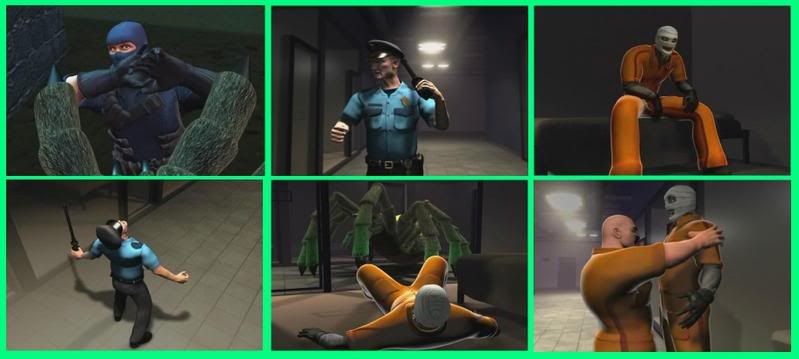 Meanwhile outside some of the guards are taken out by an unknown person or thing ! Back inside the Guard on Duty hears something from above looks above him and BAM ! is taken out. No-Face hears this and looks out of his enclosed GLASS cell, when suddenly he is startled to see a GIANT SPIDER which shoots some kind of acid on his cell. The Acid dissolves the glass allowing NO Face to step out of his cell. Suddenly Dr. X grabs No-Face and prepares to dish out some punishment as No-Face apologizes about his earlier remarks. Suddenly a familiar voice is heard stopping Dr. X from taking No- Face out. The two villains look at their liberator------------Professor GANGRENE !




Suddenly the guards come in but it's too late and the guards are no match against Dr. X, Gangrene and No face and thus the villains break out of prison with the aid of Gangrene Mutated creatures.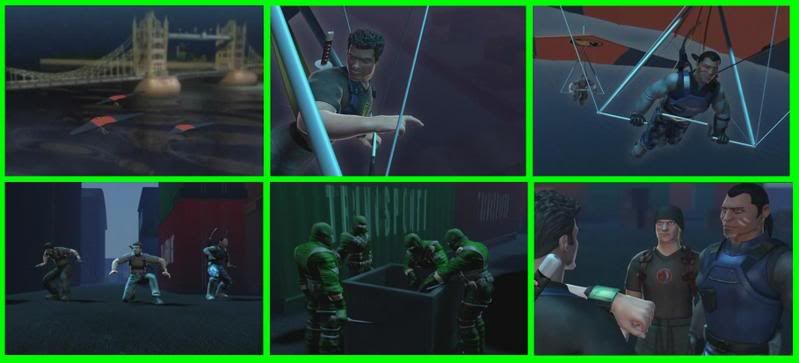 We quickly span to the London Bridge and see 3 Action Force Gliders soaring through the night sky. Action Man, Flynt and Red Wolf fly to a Cargo/Docks shipping yard to face off with some green terrorist. After Action Force makes quick work of them, Sir Arthur ( from X-missions the movie ) contact them via their wristcoms. Sir Arthur tells the team of Dr. X's and No-Faces' escape from the Maximum Security Prison.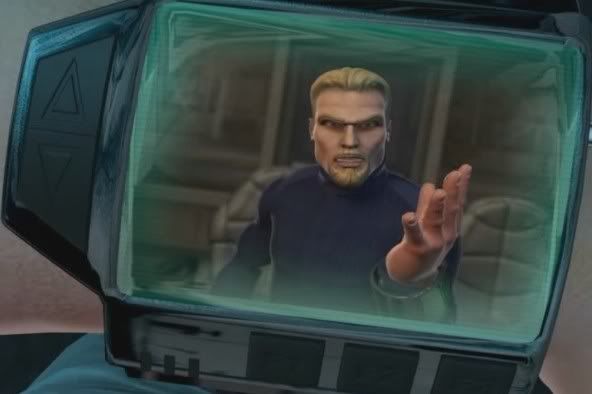 Later in an old storage warehouse Action Force Bust in , coming through the windows. The building appears to be a safe-house for Dr. X. and Action Forces' Flynt , Action Man , and Red Wolf, confront Professor Gangrene, Dr. X ,and No-face . They trade barbs and then suddenly the X-Robots come in to Battle the Action Force team.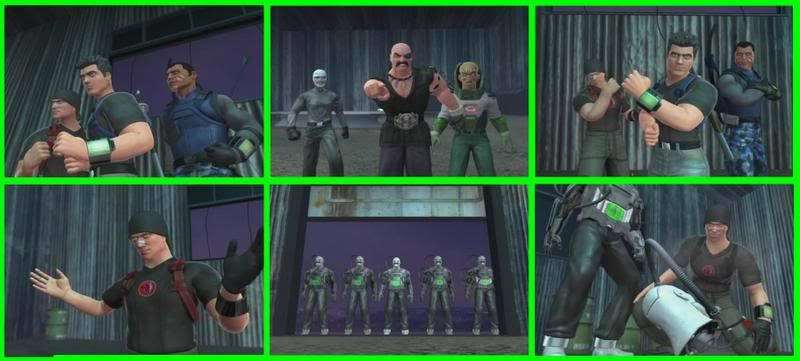 Action Man scoffs at the X-Robots as he knows their weakness. ( this is a great continuity tie-in, with the previous two films, in the first movie he discovers the X-Robots weakness being a special spot on the front of the chest, in the second movie he uses this knowledge to defeat the X-Robots ) Action Man then jumps at the X-Robot and hits the robot in the special place but…………………. the X-Robot just gets back up !!!!





Dr. X gloats that he has updated the X-Robots and has fixed their weakness !! The X-Robots attack Action Force but Action Man soon discovers a way to defeat them. Action Man then turns to X and his men and says their next ! No-Face ( who is missing his trademark brown Trench-coat for some reason, which I believe was a bad move on Hasbro's part because the trench coat is an iconic look for No Face, its almost like Cobra Commander not wearing a Rag or helmet ) starts to whine that he doesn't want to go back to Jail. As No-Face is doing this Gangrene escapes on a Jet Pack leaving Dr. X and No-Face to fight Action Force alone, but not before grabbing a special device and taking it with him !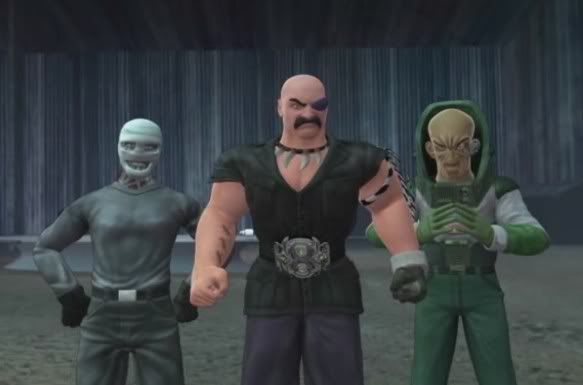 That ends part one of the Review, this review will be broken up in 3 parts, since I want to do a thorough review on this since most people in that speak english wont ever see this. Its interesting to note that it looks like Hasbro was able to use the anumation models from the previous film but I am pretty sure the movie isnt done by the same company as I dont see Reel FX's name on it anywhere. The animation at most times is as good as X-missions but at times you can see that thier was a smaller budget on this film. This shows up mostly on the animals, That is the animals that didnt show up in the GI JOE Valor vs Venom movie or X-missions movie. The Dogs in this part is what really shows up, they look stiff and not completly done. Besides that the animation is usually pretty close in quality to X-missions. I really really liked seeing the continuity being held up and using a lot of same things from the previous movie in this one. It was nice to see Dr. X Professor Gangrene No Face all looking exactly like they did before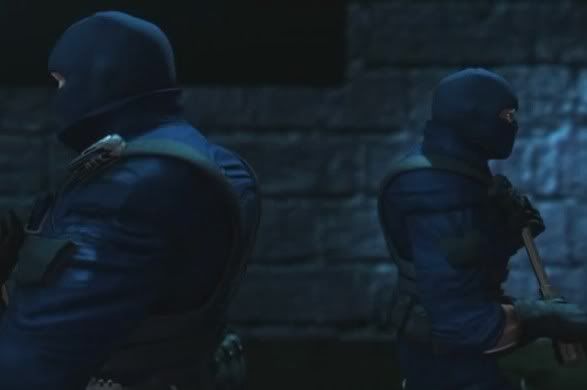 It was nice seeing the Blue security Guards using the Blue Beachhead model too. Again it makes it all feel like a trilogy.
END OF PART 1
Part Two
As Gangrene Flees Dr. X reveals his next R.W.M.D – ROBOTIC WEAPON OF MASS DESTRUCTION--- the Cyber Dog! (Finally, the ACTION FORCE dog RAID, has an enemy dog to battle!). As the Cyber Dog attacks Dr. X and NO-FACE make a dash for some motorcycles and make their escape. Red Wolf Tells Action Man and Flynt to go after Dr. X and No Face and he will handle the Cyber Wolf alone.





Flynt jumps on a Motorcycle named the ninja ( it's the same motorcycle from Action Man X-missions the movie , which was the same motorcycle animation model as GI JOEs VALOR vs VENOM movie ) and Action Man jumps into his car and a chase that is rather fun occurs in the local cities street.

Back at the Warehouse Red Wolf Finally defeats the cyber Dog while the chase that Flynt and Action Man are on don't end up in Victoria. In fact Dr. X and No-Face end up escaping while Action Man has to save a bus of tourist from being crushed under a falling building.





Flynt picks up Red Wolf and the Action Force team regroups. Flynt goes to work on his computer and is able to somehow locate Dr. Xs Trail. Soon after the team is aboard a Military Plane hot on X's Trail.

We then find the Action Force team in the Jungle, Red Wolf is seen with Raid, a new Wolf companion, Urban Wolf, and his new Falcon ( See the toy for verification ). Red Wolf is tracking Dr. X with the help of his animal companions. After accidentally springing a few traps on the way Red Wolfs Falcon finds a clue that will lead them to their next destination. DR X's SECRET BUNKER.





After traveling through a passage through some rocks they find the bunker and the animals stay at the entrance and guard it as Red Wolf and Action Man enter the base. In the base they discover Gangrene Lab, Flynt picks up a Jar and almost spills some green goo on him but Red Wolf slaps it away in time. Flynt gets the info he needs and heads out to analyze it back at HQ with Sir Arthur but as he leaves he hits a button on the floor that leaves Red Wolf and Action Man trapped in the room with Gas spilling in. Unfortunately Flynt does see this and leaves. Gangrene who is watching on Camera starts gloating and as the Gas pours in Action Man and Red Wolf pass out !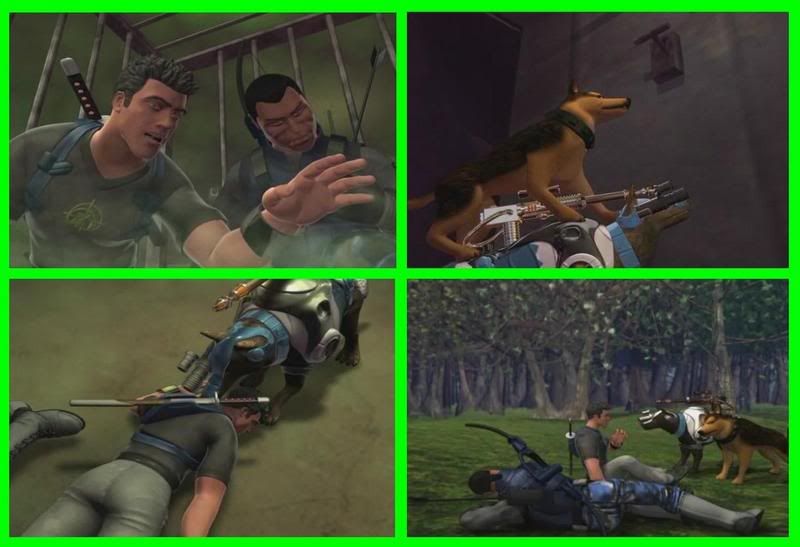 Raid and Urban Wolf hear Action Man and Red Wolf Call for help and they proceed to the room, seeing their master's unconscious they find the lever to the room and open and reach it by Urban wolf Standing on the back of RAID. Once the door opens up and the gas dispenses the two canines grab the passes out Action Force members and pull them out of the bunker and back into the Forest. Looking at each other they lie down and wait for Action Man and Red Wolf to wake up.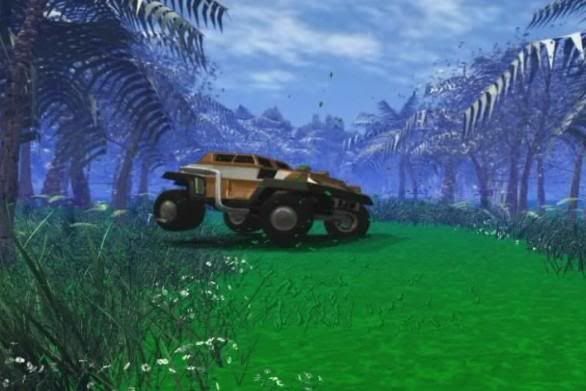 Soon Action Man and Red Wolf wake up and then quickly get into their vehicle and take off into the jungle. Soon they come across another Jungle bunker when their wrist coms go off. On the wrist com reporting is Sir Arthur and Flynt. After a brief discussion a helicopter suddenly arrives and as the helicopter lands it reveals its occupants to be No-Face, Dr. X, and Professor Gangrene. And Dr. X has been given some kind of Robotic Armor /strength enhancer, on his arm. ( what I like about this is he keeps his previous look from the previous movie but at the same time he does get a nice little update too ).





Dr. X is ready to take on Action Man and his errand boys but Gangrene stops him and instead release his mutated animals, a Giant Crocodile and a huge anaconda snake to kill Action Force. As the mutated Animals head straight for Action force, Gangrene, No-face and Dr. X head for the bunker !
End of Part Two
Check out some of the new toys that are coming out Summer 2006 for the new Gangrene Code movie / toy line. I love how the figures look like the characters from the X-Missions Movie.
The new line continues the X- missions logo/theme but has the added green ooze to distinguish it from last years X-missions theme

Here are some pics to the new Action Man : The Gangrene Code toys

Redwolf - Falcon Master


Redwolf is a native American Indian , he is intelligent and always prepared for the most dangerous missions. Now he is accompanied by a trained hawk , who is trained to attack the enemy with a simple movement of Redwolfs' arm.





I am actually glad to see characters like REDWOLF and FLYNT kept around and continued. So this looks like a good update to me. Funny how he has a Eagle/Falcon/Hawk now like Spirit. They should have used Spirit or Dart though

Action Man: Dino Trapper








Action Man: Mission K9


Action Man, Now Action Man comes armed with a powerful bazooka and has a faithful companion, a dog for reconnaissance patrols in his next mission. ( Note by Jamar Miller : Nice to see RAID ( the dog ) from the 1996 cell animated cartoon series make a return. The dog has the same colors and markings of the Dog that appeared in the show )







Action Man: Sub Aqua


Action Man,puts his body and mind to the limit to enter the depths of the sea, and now comes with the equipment necessary to defeat his enemies.






Action Man: Mission Vertical


In order to fulfill his new mission he comes prepared and ready to climb high or to low mountains. Comes with a powerful weapon and an equipment that aids him to achieve success.






Action Man: Gangrene


Professor Gangrene, wants to end Action Man once and for all and he has a new plan of attack. With his powerful weapon and its new movements, he returns with more force than ever. Now it comes articulated and ready to change to his expression when moving his arm, in addition it glows in the dark.





NO FACE :

No Description.





Sad we cant get stuff like this released in 3 and 3/4 inch. A nice 6 pack at Toys r us packaged with the CGI X-missions movie would rock and they could follow it up with Robat ATAK and THE GANGRENE CODE movies and more 6 packs. Sigh, I can dream at least

Action Man the Gangrene code Toy Commercials ( look for the CGI SCENES that are in the movie)