Got this going on a week on Saturday, please don't leave alone with Jane - er I mean Eddie.
Would be good to see soem of you

All The Cool Stuff is proud to present the first Fordingbridge Film & TV Festival, a whole day dedicated to your favourite film and television programmes, with special guests and attractions.
Saturday 7th of August
10.00am - 4.00pm
Fordingbridge Town Hall
63 High Street
Fordingbridge
Hampshire
SP6 1AS
Guests of Honour:
Jeremy Bulloch - Boba Fett/ Star Wars Trilogy
Rusty Goffe - Oompa-Loompa/ Willy Wonka & The Chocolate Factory
Ian Whyte - Predator/ Aliens Versus Predator I & II
Paul Blake - Greedo/ Star Wars
Emily Booth - GoreZone/ Actress/ Presenter
Aaron Soul - Hip Hop & RnB Recording Artist
Lightworx Media, TV & Film Production Company showcasing their projects with guest presenter Emily Booth
Elliot Aston, Independent Children's Production Animator, showcasing work
Art mini exhibition from Paul Kidby
Book signing by Richard Gallimore of latest novel: George Royle & the Legend of the Crystal Rose
Card game demos from Magic The Gathering
UK Garrison attending in Star Wars costume
There will also be some specialist retailers, including All The Cool Stuff.
Entry Fee:
Adults £3.00
Children £2.00
7.00pm - 10.00pm Approx there is a seperate event, which really is quite special: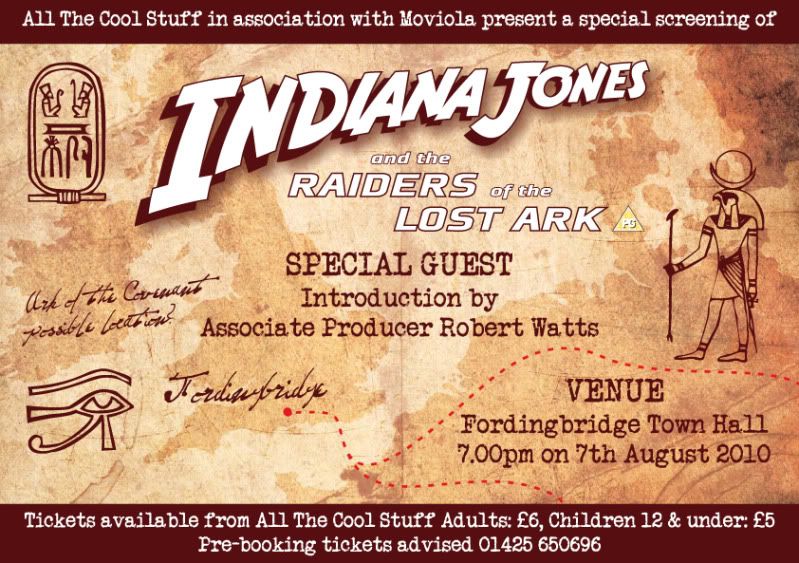 The hall will be converted into an auditorium and there will be a special screening of Raiders of the Lost Ark.
Robert Watts, the Associate Producer for Raiders of the Lost Ark will be attending and introducing the film with some recollections from the making of the film.
Tickets £6.00 Adult, £5.00 Child
Proceeds of the event go towards raising funds for the Town Hall.
All The Cool Stuff
Shop: 01425 650696
Email:
sales@allthecoolstuff.co.uk
Facebook:
http://www.facebook.com/pages/All-The-C ... 063?v=wall